Pool Party Games And Ideas
Pool Games
Searching for cool pool game ideas? We've created a list of popular games below.
Pool Party Ideas
Today's pool owners are taking full advantage of their investment by creating a new part of their lifestyle around their pool. Following are some ideas for pool parties you can host with a little preparation and planning.

Balloon Toss
Have the kids wait in a designated space (in or out of the water) and toss water balloons for them to catch. After throwing a couple, tell them that they don't get anymore unless they sing a song (can be anything, such as "Twinkle, Twinkle Little Star," "Row, Row, Row Your Boat" or "Humpty Dumpty.") Every time they sing a song, throw in a few more balloons and try a different song, or make them say something like: "I love swimming!" or "Happy birthday!" Keep doing this until you are out of balloons.
Balloon Squat
This is a relay race that needs two teams with an equal amount of players. You also need enough water balloons so there's one for each player (plus a few extras for mistakes). Make start and finish lines about 20 feet apart. Place the water balloons in two piles at the starting line. Call out "go," and the first person on each team picks up their balloon and runs to the finish line. There, they must sit on their balloon and pop it, and then run back to the start line. Then the next player grabs their balloon and does the same thing. If a player drops their balloon or pops it on the way, they must go back to the start line, take a new balloon and start again. The first team to finish popping all its balloons is the winning team.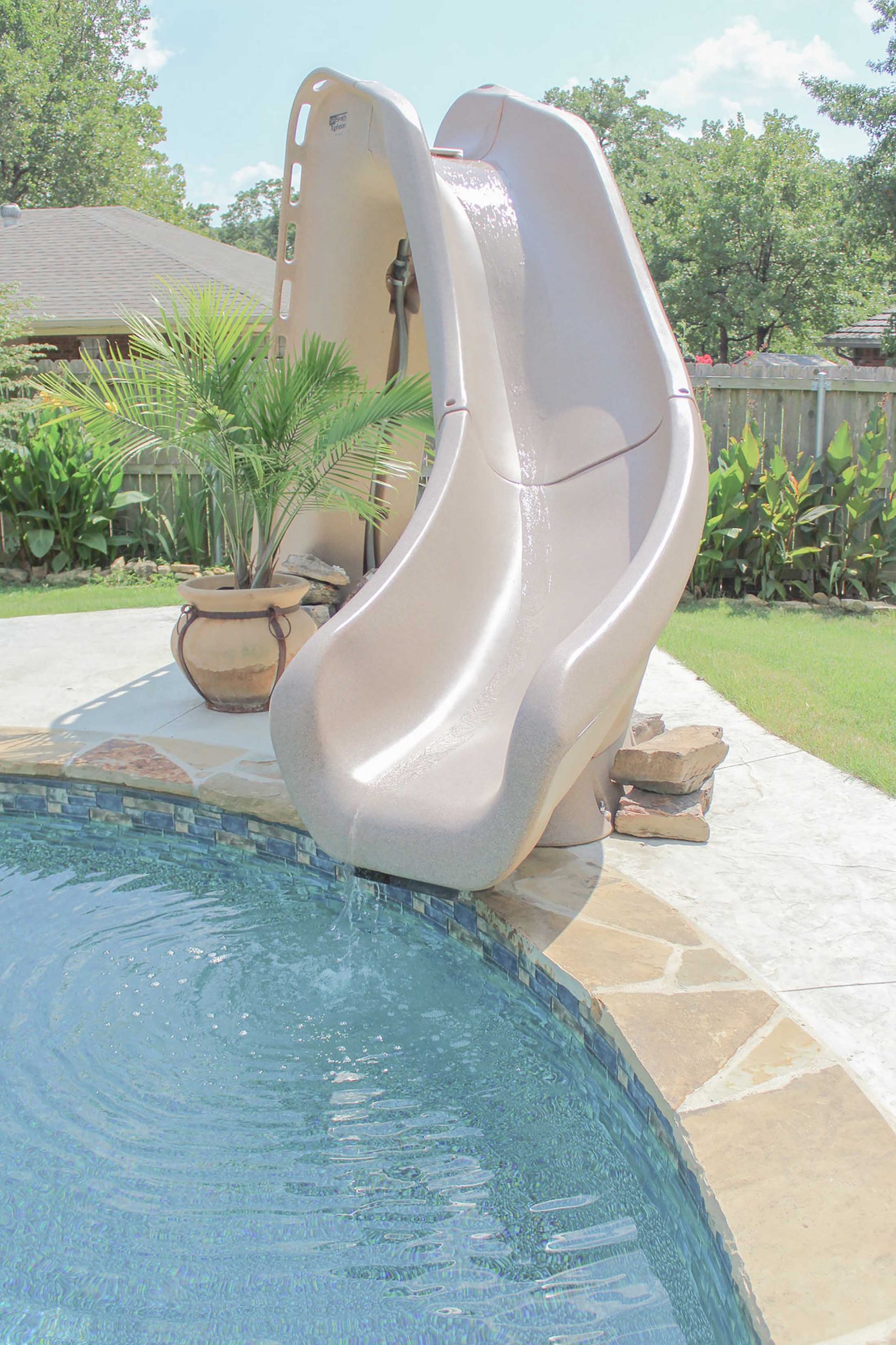 Cannonball Contest
Form two groups: one for the cannonballs, and the other a team of judges. The cannonball group lines up behind a diving board and has to make the biggest splash to get the highest vote. The judges are the voters and give each person a vote between one and 10. An adult is needed to decide what the majority of the judges want to give each person.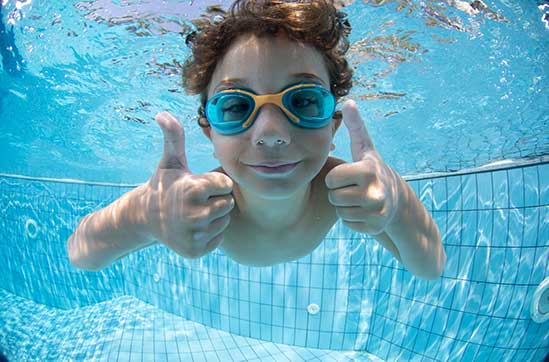 Frozen Tag
Played preferably in a smaller pool, it's just like regular frozen tag but, once tagged, another player has to swim under your legs to free you.
London River
Everyone walks clockwise around the swimming pool without stopping. One person is in the water with a hose, which is turned on. Everyone sings, "London river's flooding up, flooding up …" as everyone else walks whenever "flooding up" is sung; the person in the water can then move the hose out of the water and spray someone else. During the part in the song that says "Take the key and lock her up," you hold the hose out to another person; this person holds the hose and jumps into the pool.
Underwater Race
Have the kids line up beside a length of a pool (25 meters is ideal). One by one, they have to start at one end and swim as far as they can underwater – until they have to come up for air. Once they surface, have them sit on the pool deck next to the place where they came up. The top five or 10 people who went the farthest get a prize.
Seahorses and Mermaids
This game is played in the shallow end of a swimming pool. You need at least five people – two seahorses, two mermaids and one caller – but the more people you have, the better.
The seahorses make a circle in the water, and the mermaids stand behind the seahorses. The caller calls out "mermaids" or "seahorses." If the caller says "mermaids," the mermaids must swim like a mermaid with their legs together, clockwise around the circle, and take their place behind the seahorse. The last mermaid in her place is out, and so is her partner. If the caller says "seahorses," the seahorse must back out between the mermaid's fluke (legs) underwater. The seahorse must them swim clockwise around the circle, back under the fluke and stand up. The last seahorse in her place is out, and her partner is out, too. The last couple standing is the winner.
Penny Hunt
Throw a large amount of pennies (depending on the number of kids) into a good-size pool. Cover about a third of the pennies with correction fluid, and then send the children in to dive for them. If a child finds a penny covered with correction fluid, that child gets a prize. Great for all ages! Shallow water for the younger kids, and deeper for the older kids.
January: Beat the Blues by the Pool
Once the hectic holidays are over, most people are feeling a little blue in mid- to late January. Why not try a progressive pool party? Like a progressive dinner, a few (or more) families join together, and each hosts part of the evening … from munchies to main meals to coffee and dessert, everyone shares in the planning, the costs AND the "beat the blues" fun!
February: For Cupid's Couples Only
Candlelight, music, dinner and beverages … a perfect date for couples to share a romantic evening by the pool. Whether you celebrate Cupid before or after February 14, create a heartfelt night for one couple or many … and don't forget to enjoy the midnight swim – a perfect end to a perfect pool date!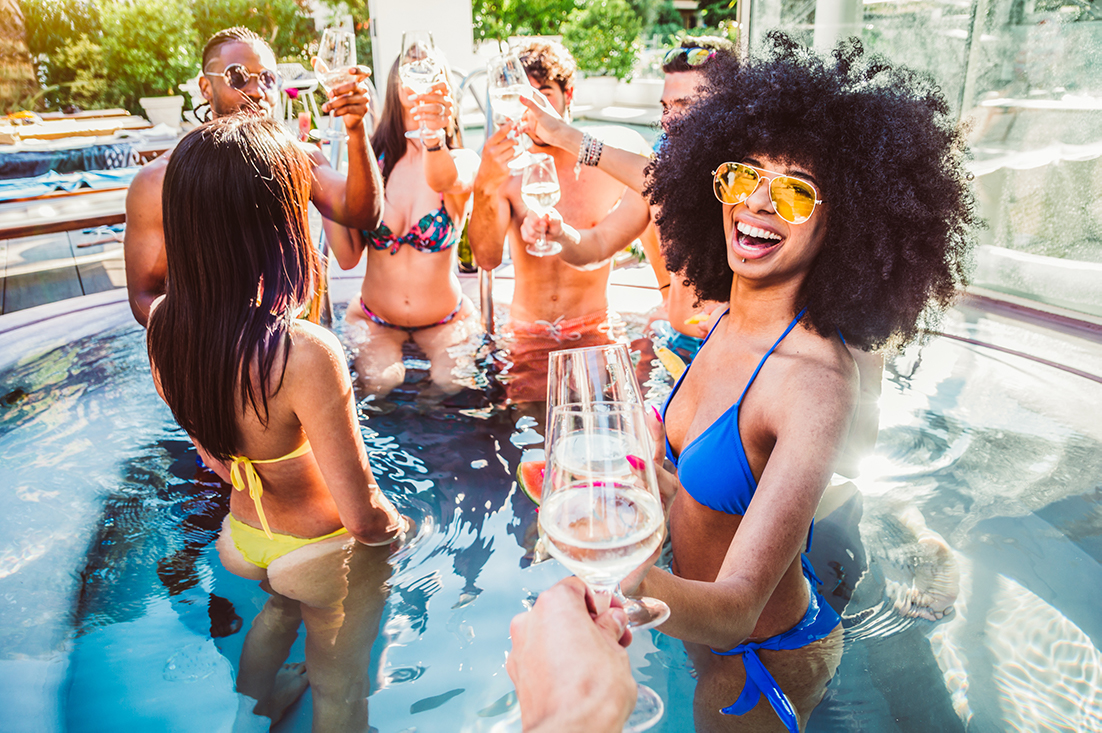 May: May Showers
A bridal shower? A baby shower? A graduation shower? Your pool will make the picture perfect spot for the bride-to-be, an expectant couple or a student to capture special memories of a most memorable time in their lives. Hosted on your own or with a group of friends, you and your guests will remember this once-in-a-lifetime celebration. And there's no rain in the forecast – remember, it's April showers that bring May flowers!
October: Tricks and Treats by the Pool
Get spooked in the coolest way by hosting the young or young at heart at your backyard pool. Halloween decorations are a must and, with the natural night light, let your ghostly imagination take over. Create your own unique costume themes (bathing suits included) and refreshments to brew up a magical party that guests will be screaming about!
December: Independence in December
Perhaps you've heard of Christmas in July? Well, turn your backyard escape into a sparkling holiday season that everyone will be cheering about. Complete with Santa decked out in red, white and blue, let your patriotism shine through for your guests. The theme is set, costumes should be encouraged, and food and drink should be an all-American affair. Fireworks are optional (as local laws permit) but, remember, first one in the pool gets the biggest present – Ho! Ho! Ho!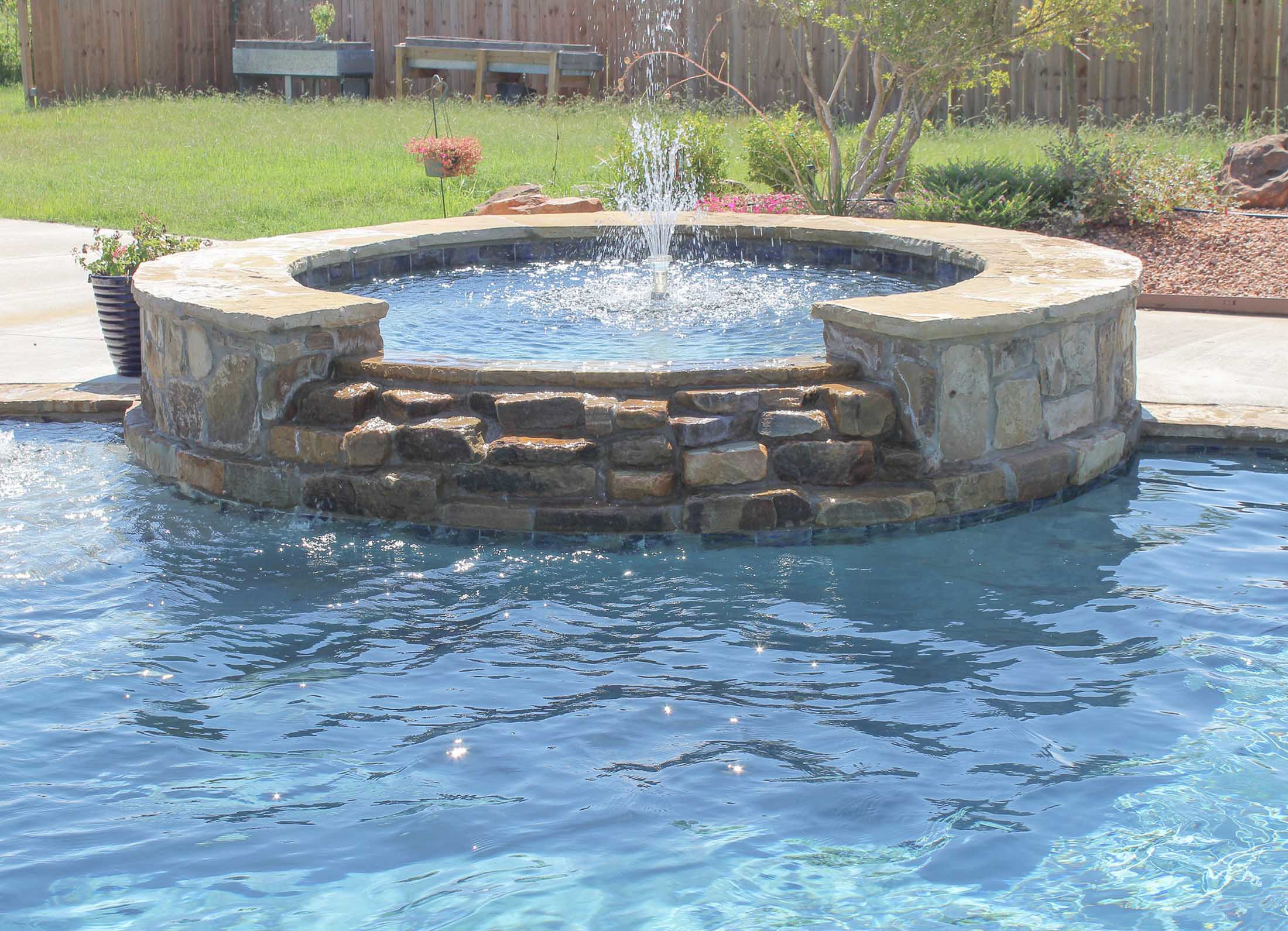 March: My March Pool Madness
March madness? Are you ready for college basketball tourney madness? Show your support for your favorite team – get your hats, T-shirts, banners or "cry towels" – and meet me at my pool. The pool hoops are ready for my March madness. For fun or competition, co-ed teams are a must. Get fun prizes together and finish up with a cookout. No one will even think about turning on the TV (unless it's outdoors).
April: Garden Pool Party
Create your own garden party for the millennium. Guests arrive with their favorite gardening secrets or plants … perhaps add a secret surprise gift exchange (small garden tools?) … Everyone knows that a garden needs plenty of water, so get in the pool … relax, enjoy and soak in the pleasure your garden pool party.
September: Back-to-School Splash
With Labor Day comes the official end of summer. And the back-to-school blahs take over for most students. What a great time to EXTEND THE POOL SEASON by inviting classmates (and parents/teachers if desired) to get together and renew friendships and make new ones. Keep cool by the pool and add your own theme – perhaps with a wacky hat contest and plenty of games, activities and fun for all!
November: Turkey Barbeque
Start a new family tradition with a turkey barbeque by the pool. Everyone brings their favorite Thanksgiving dish and, whether or not the turkey is actually cooked on an open fire or in the kitchen oven, everyone can enjoy the traditional day of thanks in a non-traditional, but most memorable way by your pool. Last one in the pool is a real turkey!